Intraday Market Thoughts
Chinese Stocks Set to Rally in Return
In the near-term the focus is on China as it returns from an extended holiday. The kiwi was the top performer on Wednesday while the Swiss franc lagged. Japan also releases top-tier data in the hours ahead. One of the two existing Premium GBP trades was adjusted ahead of tomorrow's BoE decision.
Click To Enlarge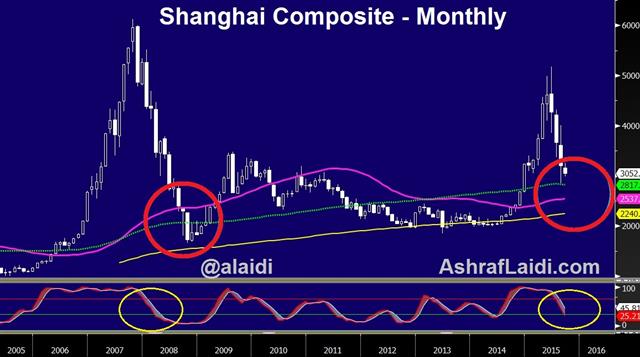 China has been on holiday for five days and that covers the latest leg of global equity market strength. Foreign-listed Chinese ETFs are up nearly 10% since the Shanghai Composite closed on September 30.
The spike should be priced in but the headlines could spill over and spark a bit of optimism elsewhere. The market has been digesting a steady stream of good news from the stock market as the S&P 500 climbed for the sixth time in seven days.
The Australian dollar also climbed to make it six straight days of gains. The Canadian dollar had joined it earlier in the session but reversed lower alongside oil after US weekly oil inventories were unexpectedly large.
Again, we reiterate USDJPY's inability to rally despite the latest bump in risk sentiment, which highlights the fact that a dovish Fed is an integral component of the rally. However, December Fed fund futures have been ticking higher and are at 40% -- the best level since non-farm payrolls.
The Bank of Japan is the flipside of the USD/JPY equation and hopes for more BOJ faded after yesterday's meeting. Kuroda remained confident in the inflation forecast and didn't make a case for easing when officials meet again on Oct 30. But market participants have a good memory and recall that last year's BOJ QE was a surprise.
Kuroda, however, may have tried to overtly dampen speculation as he highlighted differences between last year's economy and the current outlook. At the time, measures of inflation were falling and this year they're rising, he noted.
Economic data will continue to be scrutinized. At 2350 GMT the August machine orders report is due and expected up 2.3% m/m. At the same time current account data is due.
Act
Exp
Prev
GMT
Current Account n.s.a. (AUG)
¥1,221.0B
¥1,808.6B
Oct 07 23:50
Latest IMTs