Intraday Market Thoughts
Commodity FX Climb, BOJ Next
Is the best sign of the abatement in fears about the global economy seen via the recent non-stop rally in commodity currencies? Or, is it a manifestation of USD weakness resulting from a substitution of higher yielding currencies at a time when the much talked-about Fed hike is pushed back further in the unknown horizon? It extended Tuesday as the Australian dollar led the way while the US dollar lagged. The BOJ meeting due up next , with the possibility that China releases itsr latest FX resereves data even as markets are shut for the final day of National Day holidays. Ashraf issued a 33-minute video for Premium subscribers highlighting the similarities and differences in the current equities bounce with the developments of 2011, 2008 and 2000.
Click To Enlarge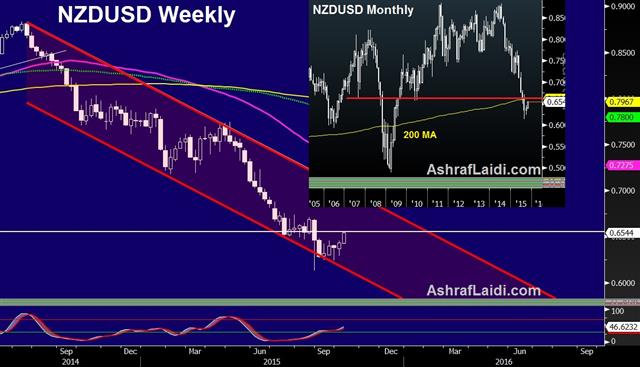 The Australian, and Canadian dollars climbed for the fifth consecutive days. AUD rallied the most in four weeks as a result of the RBA, which held a neutral stance rather than shifting to a more dovish bias. The Canadian dollar was lifted by oil, which gained 5% on better demand forecasts and tighter inventory data. WTI crude is now testing the Aug 30 high of $49.44 in what's a key level to watch for CAD traders.
We are cautious that the five-day commodity currency rally has coincided with a five-day Chinese holiday. In addition, note that USD/CAD has only rallied in six consecutive days twice since 2009 and never for seven straight days. The most-recent six day rally was in July 2013. The pair is nearing the post-FOMC spike low of 1.3010.
In the hours ahead, commodity currencies will vacate the spotlight to the yen as the BOJ meets. The decision has no fixed time but is usually in the 0230 GMT-0330 GMT range.
The bigger BOJ meeting comes on Oct 30 and that's a date that some analysts have signalled as the start of yet-another round of QE because it also includes updated economic forecasts. Abe recently talked about launching Abenomics 2.0 and yen weakness has been a key part of his platform but other signals have suggested the BOJ is very reluctant to easy further.
Latest IMTs