Intraday Market Thoughts
Convergence, divergence, snapback
I've already mentioned the tri-relationship between US equity indices, yields and USDJPY and what happens when a divergence goes too far. Looks like I'll have to mention it again. The positive correlation between equity indices (using SPX500), G10-yields (using 10-year yields) & USDJPY (general proxy for JPY crosses) has been disrupted for as many as 5 weeks with stocks extending to new highs, while yields and yen crosses dropping lower.
Click To Enlarge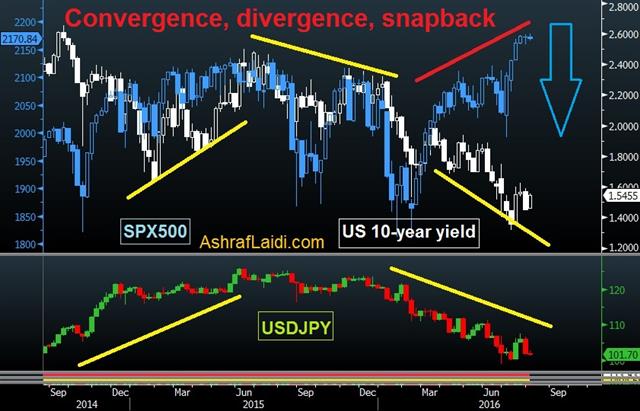 The wider the disruption in the correlation, the greater the risk of a snapback; in this case the harder stocks are likely to fall back in line with falling yields and falling USDJPY (rising yen).
JPY rises as Japanese investors continue to hedge their FX exposure of their foreign-bound holdings for fear of yen gains and the BoJ will not expand QE via JGBs because there are simply not enough bonds to be bought; Yes, the BoJ did expand its purchases of equity ETFs last week, but that does not carry the same leverage in raising money supply and weakening the value of the yen. YIELDS fall, reflecting a low growth-low inflation environment and negative interest rates. The Fed's response to tightening labour markets shall remain muted in terms of policy response as long as low inflation means that REAL yields are high. STOCKS challenged, as they gradually take notice of the macro-economic challenges (bottoming unemployment/jobless claims, bottoming in cost-cutting & lack of material gains in capex), resumption in oil bear market, which will resurrect the earnings challenges of big oil and high yield complications of near-junk oil borrowers.
A fourth variable to the equation is oil. Both crude and Brent have entered bear territory, falling more than 20% off their June highs.
Anticipating further "repair" in the relationship, we issued a new trade in an equity index, adding to the 8 existing trades, which consists of FX, indices and commodities.
In what is the last "serious trading week" of the summer, markets await "Super Thursday" for a possible interest rate cut from the Bank of England as well as the jobs figures from the US and Canada on Friday. Whatever the outcome of the NFP-UnempRate-Earnings combination, Fed chair Yellen will tell us in 3 weeks' time in Jackson Hole.
Latest IMTs