Intraday Market Thoughts
Will the RBA Cut?
Tonight's RBA decision (00:30 Eastern Time, 05:30 British Summer Time) stands a 67% chance by overnight index swaps market of a 25-bp rate cut to 1.50%, whereas 80% of the 25 economists/strategists polled by Bloomberg expect such a move. Divergences between economists and the market are not new. Aussie macro figures have been mixed as of late, but the more important CPI element suggests a possible rate cut when combined with the FX element.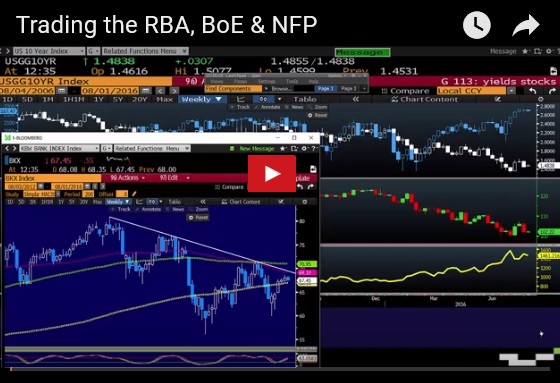 There are two main reasons for an RBA rate cut: 1) Preventing excessive AUD strength as not only the RBNZ is widely expected to cut rates next week (after it had been revealed that macro-prudential measures will be adopted for the housing market), but the Fed will also not hike rates in September. Thus, an RBA hold on rates would flash the green light for the AUD to rally against USD as well as JPY; 2) CPI Aussie Q2 CPI slowed to 1.0% y/y from 1.3% y/y to reach its lowest level on record. Aussie unemployment rate is near a 3-year low of 5.8% but new job creation has fallen to under 8K, below the 3-month moving average. The minutes of last month's RBA meeting sounded a dovish note on inflation, which weighted on the currency for the ensuing 5 trading days. But the relative stabilisation Chinese macro data as well as eroding chances of a Fed tightening is making the difference between AUD support and rising momentum. AUD is up 4% on a trade-weighted index from its May lows, but is only down 3% from April's 12-month highs.
Earlier today, I issued a tactical AUD Premium trade to hedge against an existing AUD trade, laying out the technical and fundamental reasoning for this particular tactic. Taking into consideration the evolving inter-market landscape, it is important to select the suitable hedge. In addition to the trade and charts, trades and charts ahead of the week's other events (BoE, Canada & US jobs) are detailed in today's Premium video.
Latest IMTs