Intraday Market Thoughts
Dollar Gains Dulled, Japan CPI Due
A weak durable goods report and position squaring ahead of the long weekend hurt the US dollar Thursday. The pound was the top performer and the yen lagged. Japanese CPI is due later and Australia is on holiday. In the Premium Insights, GBPUSD was closed at a 215-pip gain, while leaving one other GBP pair in progress alongside 3 other trades.
Click To Enlarge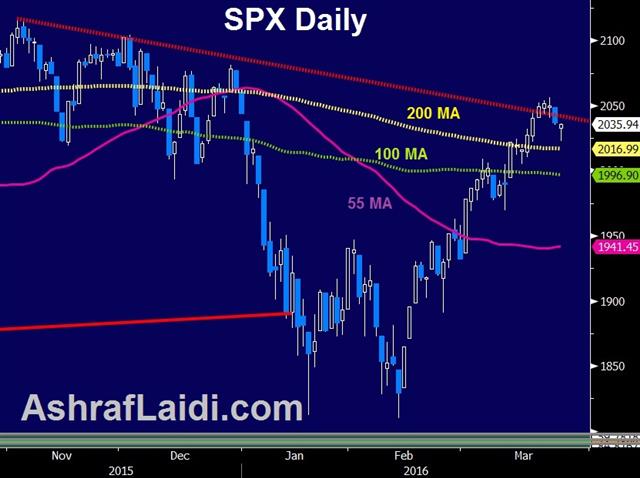 The US dollar peaked early in New York trading but sagged after a disappointing durable goods orders report. EUR/USD touched a session (and weekly) low of 1.1142 prior to the release and slowly climbed to 1.1172 as the day wore on. Core durable goods orders fell 1.8% compared to a 0.5% decline expected. The prior was also revised to 3.1% from 3.4%. The numbers didn't cause an immediate reaction in the dollar but with the long weekend looming, a small retracement of this week's dollar strength wasn't a surprise.
Other US economic data included a small improvement in weekly initial jobless claims to 265K compared to 269K expected. Weekly Baker Hughes data showed a sharp drop in oil drilling rigs to 372 from 387. That helped lift oil from $38.34 to $39.61.
In the past two weeks the market has been rattled by a number of events including the euro reversal after the ECB and the Fed surprise. Speculative positions have fallen towards flat and many research notes we're reading lack any kind of conviction.
In time the market will find a fresh theme. Significant economic data hits in the next two weeks and that will result in more sustained market moves. One spot we're watching especially closely is the commodity bloc. There have been signs this week that the resource rebound is waning. That could be a false signal because it was a quiet week. Yellen speaks next Tuesday at the Economic Club of NY.
Japan will remain in focus with USD/JPY within striking distance of 15 month lows. The BOJ is desperate for some sign of inflation. The Feb CPI report is due at 2330 GMT and is expected to show prices up just 0.3% y/y and flat ex-food and energy. Tokyo CPI for March is forecast to decline 0.2% y/y.
Act
Exp
Prev
GMT
Core Durable Goods Orders (m/m)
-1.0%
-0.2%
1.7%
Mar 24 12:30
Continuing Jobless Claims (MAR 11)
2.179M
2.230M
2.218M
Mar 24 12:30
Initial Jobless Claims (MAR 18)
265K
268K
259K
Mar 24 12:30
Latest IMTs