Intraday Market Thoughts
The Muddle Trade
The week ahead may start slowly but it will build up with a Yellen speech on Tuesday and non-farm payrolls on Friday, promising to add a dose of volatility. The larger theme that may be unfolding in the global economy isn't a good year, but it's not nearly as bad as was feared a month ago either.
Click To Enlarge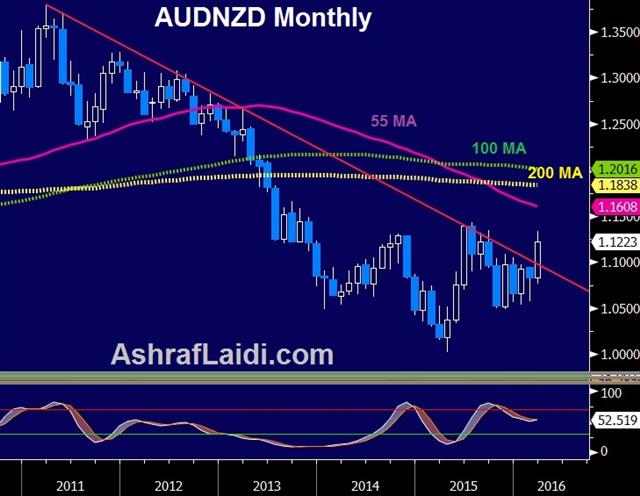 European clocks go forward 1 hour, which means British Summer Time (BST) is once again 5 hours ahead of New York (Eastern Time) but Greenwich Mean Time (GMT) remains 4 hours ahead of NY Eastern Time, therefore, GMT no longer equals to BST.
Central banks have largely shown their cards for 2016, or at least for the next few months. The ECB and BOJ unleashed surprisingly large stimulus with mixed results. The Fed finished 2015 like a lion and has slowly turned lamb.
Those actions, fresh stimulus from China and a rebound in commodity prices removed many of the tail risks in the global economy but haven't spurred the economy. So the fear is largely gone but so is the optimism.
What's left is a mood that's much like the market over the past week – not particularly committed or emotional. That might be a glimpse into the coming few months. China fears faded once again on the weekend as Jan-Feb industrial profit data rose 4.8% y/y; the fastest pace since July 2014. In any case, one or two outlying economic data points won't rankle the market, volatility will diminish.
The near-term looks like 1-2% growth and the distant horizon the same. So rather than big fear and hope trades, it could mean small divergences in similar economies like EUR/GBP that offer the most value in the coming months or carry trades that hedge out commodity risk like AUD/CAD.
To be sure, many risks bear watching including a Brexit, US politics, Chinese debt and a return of the commodity collapse but the market may be less likely to leap from one to another than it was.
The market to start the week has been mild. Australia, New Zealand and Hong Kong are closed while Japan and China are open. Europe and the UK later are closed as well. There is no data on the economic calendar until the Feb PCE report in US trading.
Latest IMTs