Intraday Market Thoughts
Dollar Picks Up Where It Left Off
The first trading day of the year ended the same way as all of 2017 – with the US dollar struggling. Will it be a rise in US bond yields to turn the tide in the greenback after the currency slumped in the first full trading day of the year? The pound was the top performer on Tuesday. The Asia-Pacific calendar is bare. Most of the damage was done in European trading as strong PMIs lifted the euro and pound. The first part of a strategic EURUSD Premium has been issued to subscribers moments ago.
Click To Enlarge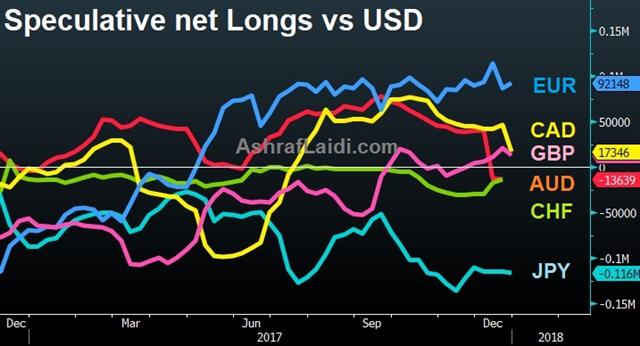 As New York arrived a strong selloff hit bonds and 10-year yields rose 5 bps to 2.46%. That momentarily lent a bid to the dollar but it didn't last.
The S&P 500 also roared to start the year in a 22 point climb to a record 2695. Tech was particularly strong in a great sign for stocks going forward. One worry was that would-be sellers were going to wait until after year-end to take the capital gains hit but the index climbed 1.5%.
The pound particularly took advantage of US dollar weakness as cable rose 90 pips to 1.3595. That's now within striking distance of the September high. One worry is that as newsflow picks up it will mean Brexit news picks up. For the past year, that's generally rattled nerves and led to selling.
Another move to continue to watch is gold as it ripped $15 higher to $1317. It was the ninth consecutive day of gains as a strong seasonal kicks off.
In terms of economic data, it was a slow start to the week with only the Markit US manufacturing PMI on the agenda. It was at 55.1 from 55.0 previously. The calendar stays quiet throughout Asia-Pacific trade.
Latest IMTs