Intraday Market Thoughts
Draghi Giveth, Draghi Taketh Away
Could the euro's 400-pip rally be attributed mainly to Draghi's remarks that he did not anticipate more rate cuts based on the current view and that the ECB didn't see the need for further rate cuts? The timing of those remarks coincided with the euro's stabilisation before the spike turned into a full-fledged euro rally, USD plunge and all-round selloff in equities.
Click To Enlarge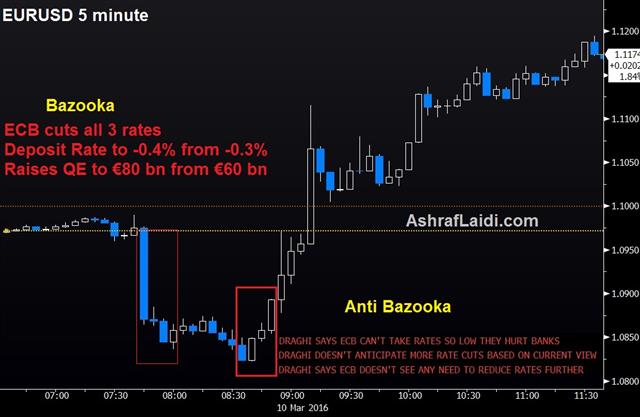 How far down would the euro have gone had Draghi not dampened expectations on further ECB action? Does that matter? The fact that the euro unleashed one of its biggest gains despite the record expansion of asset purchases of Eurozone debt to EUR 80 bn per month from EUR 60 bn and reducing all 3 interest rates, including the reduction of the deposit rate to a record low -0.4% from -0.3% speaks volumes about the efficacy of negative interest rates.
Traders are increasingly aware that limitless negative rates by central banks do not mean limitless negative rates by commercial banks. The latter may have some tolerance to negative rates on their reserves at the ECB, but the same cannot be said about businesses or individual depositor's reserves at commercial banks. Whether it is -0.70% or -0.90% at the ECB, neither Deutsch Bank, Santander or BNP Paribas will succeed in transferring the so-called penalty to depositors. At least, the ECB was honest enough to not disguise its new negative rates with a Japanese style "multi-tier" rate, whose selective levy only means the low rate will not be widespread.
On the 1st year anniversary of the start of ECB, on the 7-year anniversary of the start of the generational lows in global equities, we are likely to have seen the top of the 10% bounce in equities, which is in and of itself, part of a new bear market. SP500 futures peaked at 2011 today, in line with our prediction 3 weeks ago here.
As for EURUSD, it remains in line with our tactically bullish stance, communicated in the Premium Insights. The next move will be less obvious and requires patience and capital.
Act
Exp
Prev
GMT
Eurozone ECB deposit rate decision (MAR 10)
-0.4%
-0.4%
-0.3%
Mar 10 12:45
Eurozone ECB Interest Rate Decision (MAR 10)
0.00%
0.05%
0.05%
Mar 10 12:45
Latest IMTs