Intraday Market Thoughts
Two Central Banks Burned
Extraordinary and experimental action from the BOJ and now the ECB has backfired in the market. The euro surged after Draghi hinted no more easing is in the planned pipeline. Looking abroad, the PBOC could be on the cusp of a major announcement. EURJPY was stopped out, EURUSD remains in progress and in the green along four other trades.
Click To Enlarge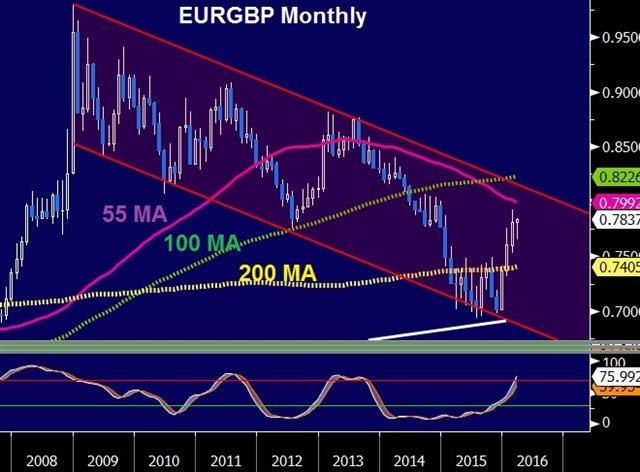 The law of diminishing returns was in full view Thursday. The ECB delivered more than almost anyone expected but a harsh squeeze higher came after Draghi said no more cuts are in the forecast. He qualified it by saying that if the economy falters there could be more cuts and/or other extraordinary measures but the damage was done and EUR/USD jumped as high as 1.1220 from as low as 1.0823.
The reactions to the BOJ and ECB moves may make policymakers reluctant to creatively unleash stimulus. That would leave them truly at the zero bound.
One story that was overlooked in the ECB excitement was a Reuters sources story saying the PBOC is preparing regulations that will allow lenders to give up bad loans to the government or central bank in exchange for ownership stakes. Official data shows banks hold $614 billion in non-performing loans but most believe the situation is worse. Still, if all the reported bad loans were transferred to the government, this program would be nearly as large as the original US TARP program and very similar.
The market hardly noticed this story but it could potentially free up Chinese banks for billions in new loans and provide a major boost for growth. Keep a close eye on Shanghai stocks in the days ahead to gauge the potential impact.
Two other central banks are also in focus. The FOMC decision next Wednesday could revitalize the dollar. Initial jobless claims Thursday improved to their best level since October and comments from Fed members have been relatively positive.
The RBNZ is one of the few developed market central banks with plenty of traditional monetary policy firepower. The NZD has ranged since the surprise cut yesterday. Wheeler singled out today's REINZ house sales data for February as a key metric. There is no scheduled time or consensus estimate but the prior reading was +4.3%. A slowdown in house price growth may give him more flexibility to cut the 2.50% overnight rate further.
Act
Exp
Prev
GMT
Initial Jobless Claims (APR 05)
259K
275K
277K
Mar 10 13:30
Latest IMTs