Intraday Market Thoughts
Fed Shift Boosts Dollar, Yen Holds
The
US dollar is having its best week in 9 months, while gold saw its biggest daily percentage drop since January yesterday
after the FOMC decision went beyond a surprising shift in the dot plot to a change in outlook and communication. The yen is the only gainer vs USD, while CHF and EUR and the weakest. US jobless claims rose by more than expected and the Philly Fed unexpectedly slowed.
Click To Enlarge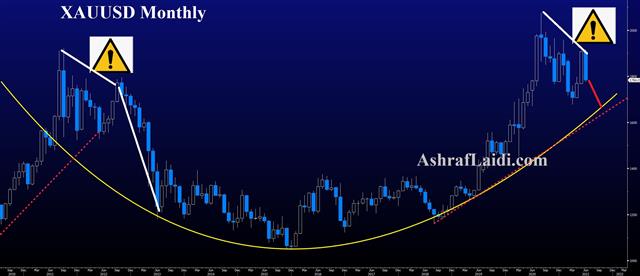 Ahead of Wednesday's FOMC, we highlighted the risk of a hawkish shift in the dots but it went well beyond expectations. Previously there were no hikes priced in for 2023 but now the median sees two. In addition, 7 of the 18 Fed members now see a hike in 2022.
"Many participants are more comfortable that the economic conditions in the committee forward guidance will be met somewhat sooner than previously anticipated" Powell said while also noting that in 1-2 years there will be a "very, very strong employment market."
He tempered that slightly by saying that the taper threshold of 'substantial further progress' is 'still a ways off' but that hardly slowed the dollar move. Cable fell through 1.40 and the euro through 1.20.
It's now clear that the inflation data has spooked many at the FOMC. Powell had previously highlighted employment as the key metric but even with back-to-back soft non-farm payrolls report, they've cast aside the talk about patience to allow for a 'broad and inclusive' recovery while waiting for the data to arrive. Instead, Powell is now relying on forecasts that employment will pick up as daycares reopen and unemployment benefits run off.
This isn't just a superficial shift. The timeline for a taper and hike have now moved up. The Eurodollar market is fully priced for a hike in 2022. US 5-year note yields rose by 11 bps to 0.89%.
The change undercuts the Fed's hard won credibility on patience and underscores that the market is in charge of the Fed, not the other way around. Given the crowded bets against the US dollar, the move could run.
Latest IMTs