Intraday Market Thoughts
Reflation Goes off the Rails
The dominant theme in trading in 2021 was reflation but that rested on the Fed letting prices run hot. On Wednesday, that was upended and so were bets on inflation in a sharp move lower in commodities.
The reflation trade unwound in a messy thes epast 2 days.
First, it was the long-end of the bond market finding a strong bid that eventually pulled 30-year yields to the lowest since February. The charts below show how the sharp in bond yields of the last 48 hrs helped NASDAQ, while weighing on DOW30 and SPX.
Ashraf will prepare a detailed video this weekend on these relationships
and how they tie in with gold and USD.
Click To Enlarge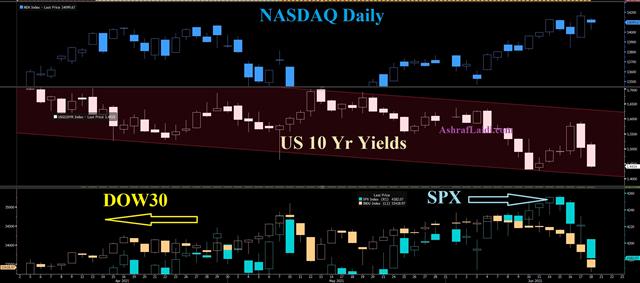 The pullback in yields confused bond bears, indicating market sees declining chances of an inflation overshoot and a consistent return to +2% CPI. The commodity market was quick to jump on the shift, with nearly everything falling sharply, including a 2.2% fall in gold, a 7% fall in soybeans and a 5% decline in copper.
With that, the commodity currencies also dropped. The declines in AUD and NZD were particularly stark given that Australian employment and New Zealand GDP were both very strong.
In equities, the trade manifest itself as a fall in small caps and a jump in tech.
Is the Fed displeased with the market reaction? They fought hard for credibility on an inflation overshoot but have squandered it. That said, this may also be a tactical retreat from Powell and the Fed governors. They don't have any control over the dots but he hasn't conceded any ground on a taper or rate hikes yet. The real discussion won't take place for a few months yet and by that time they might have a clearer idea on whether or not inflation is transitory or not.
For now though, the dollar is ascendant and because shorts are such a crowded trade, there is some room to run.
Latest IMTs