Intraday Market Thoughts
FOMC Trumps Politics, For Now
Markets are increasingly wary of hawkish signals from the Fed despite a weak retail sales report Tuesday. The yen was the top performer while the kiwi and British pound lagged. A critical slate of US primary votes take place later, we look at what they could mean for financial markets. A new trade in GBPUSD was issued ahead of Wednesday's UK jobs report and UK Budget.
Click To Enlarge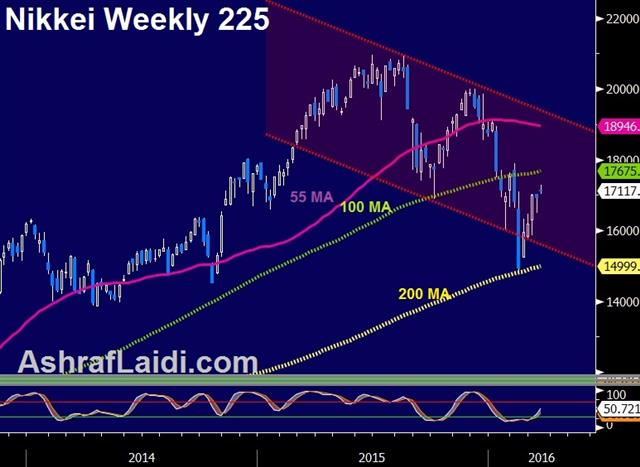 A main part of the narrative of the recovery in risk assets in the past month was unhinged by a soft retail sales report. Core sales, which exclude autos, gas and building materials, were flat in February compared to a 0.2% gain expected. Alone that's a small miss but it was compounded by a downgrade to the January reading to +0.2% from +0.6%.
The S&P 500 bottomed the day before the January retail sales report on the idea that US consumers were strong and spending. That was underscored by the excellent Feb jobs report. Now, we learn that the US consumer is middling and many questions remain about the health of the global economy.
The FOMC decision on Wednesday is pivotal. A hike is extremely unlikely but markets will attempt to gauge the potential for a June rate rise. Markets are priced nearly 50/50 for that date and could swing based on the Fed statement, projections and dot plot.
Most chatter is pointing towards a hawkish Fed and that's something the BOJ would certainly welcome after the fall in USD/JPY Tuesday.
Another thing to watch in the day ahead is the outcome of the Republican primary races. The vote isn't likely to add intrigue – Trump is way ahead in polls for Florida and Ohio – the story could be how the Republican establishment reacts to him taking a commanding lead. The party is likely to begin to coalesce around Trump but there is a chance they could dig and signal a fight right through the convention.
That's the kind of outcome that would further stoke the flames of discontent in the United States. It would signal some degree of discord and could weigh on risk assets. A similar reaction could also come from another surprise Sanders win in the Democratic race.
In the day ahead, the Fed will certainly be the largest market driver but US political risks won't be ignored for long.
Latest IMTs