Intraday Market Thoughts
The Bank of Jawbone?
The Bank of Japan attempted to shock markets with negative rates in January but it backfired and the yen jumped. In a sign that markets are unafraid of action at the BOJ decision today, the yen was the top performer on the day while the kiwi lagged. We take a look at what the Bank of Japan will do (or more likely, say) at the meeting. Aussie traders will watch the RBA minutes at 0:30 GMT/London. A new set of Premium trades ahead will be released on Tuesday ahead of Super Wednesday (UK jobs, UK Budget, Fed Decision/Yellen Conference, Aussie Jobs).
فيديو الاسبوع "المؤشرات، الذهب و النفط"
Click To Enlarge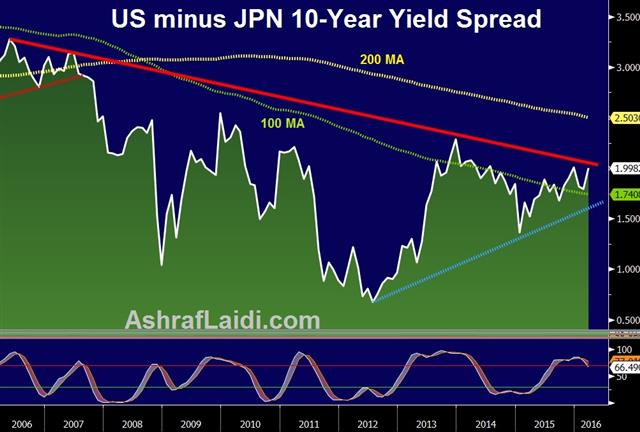 First, there are two numbers to watch with the BOJ decision, which is usually announced between noon and 1 pm Tokyo time. The first is the main policy rate, which was lowered to -0.10% in a surprise move at the January BOJ. Another cut is extremely unlikely and none of the economists surveyed by Bloomberg anticipates it.
Where there is some chance of a chance is in the growth in the monetary base, which currently sits at 80T yen. A handful of economists see a rise to 90T yen.
The reason most don't expect any change isn't the economy. Signs of deflation and non-existent growth continue to mount and the recent strength in the yen isn't doing the outlook any favours. Rather, the BOJ has indicated that it wants to assess the January measures before it makes another move.
The risk is that Kuroda has shown that his favourite tactic is surprise. He used in January to shock markets but the real surprise may have been how badly it floundered as USD/JPY tumbled in the aftermath.
What markets will be looking to assess later today is how eager the BOJ is to act in April, when new appointments add to the dovish BOJ tilt and there is more economic data to evaluate.
In the meantime, jawboning may be the preferred tactic. Kuroda may attempt to use some fresh and strong language to talk down the yen. If he adds any kind of concrete speculation what the BOJ could do next, the yen may decline (ie a USD/JPY rally). Also watch out for a hint the economic outlook could be downgraded.
What may keep the BOJ on the sidelines is hope. Namely, hope that the Fed will do some of the lifting for it with a hawkish statement on Wednesday. Otherwise, they will be hoping that the market chances its mind on negative rates.
Act
Exp
Prev
GMT
RBA Meeting's Minutes
Mar 15 0:30
Latest IMTs