Intraday Market Thoughts
China Fears Flare, AUD Longs Rise
China combined Jan and Feb data in an effort to smooth over Lunar New Year skews but it only helped to highlight the economic slowdown. Industrial production rose 5.4% y/y compared to 5.6% expected. Retail sales rose 10.2%, missing the 11.0% consensus. Steel and aluminum output both contracted over the period as well, underscoring the diminishing market for commodities. There are 4 trades currently in progress in tge Premium Insights after GBPUSD was stopped out and GBPAUD was closed at a gain.
Click To Enlarge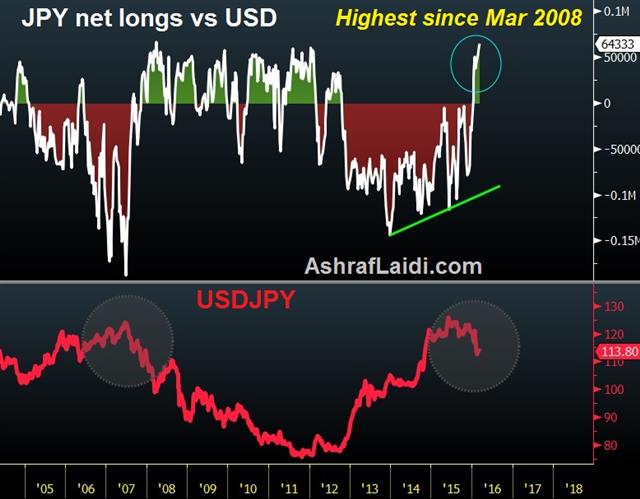 There were better signs in investment and real estate data but the PBOC Governor Zhou said prudent monetary policy is needed not major stimulus. He also took direct aim at one of the major problems facing leaders – capital flight -- saying there is no rush to buy US dollar.
The danger, as we have highlighted in the past, is that China is stoking a property bubble in order to stimulate growth. The value of property sales in the first two months of the year rose 43.6%.
Another factor that could weigh on commodity currencies is Iran, which once again asserted that it won't discuss any efforts to freeze production until it recoups market share.
Japan machine orders are due later ahead of the Tuesday BOJ decision. Australia releases credit card data and Hong Kong factory output could be seen as a proxy for China.
Commitments of Traders
Speculative net futures trader positions as of the close on Tuesday. Net short denoted by - long by +.
EUR -72K vs -69K prior
JPY +64K vs +60K prior
GBP -49K vs -39K prior
CHF -0.1K vs -1.5K prior
AUD +29K vs +17K prior
CAD -26K vs -30K prior
NZD -2K vs -4K prior
Australian dollar bets nearly doubled. It's a sign of how easily the market can be persuaded to bet on carry. One of the focuses this week will be the large yen net long. The BOJ is undoubtedly irked by bets on the yen and Kuroda may attempt to spook the specs with some strong words. If not, the Fed may go to work for him.
Act
Exp
Prev
GMT
Core Machinery Orders (m/m)
15.0%
2.0%
4.2%
Mar 13 22:50
Latest IMTs