Intraday Market Thoughts
Headlines Boost USD/JPY
USD/JPY is stronger to begin the week after a comments from Kuroda and Fischer. Last week, the pound was the top performer on upbeat data while the Aussie lagged. CFTC positioning data showed a fresh record net short in cable. The event of the week is Friday's Yellen speech at the Jackson Hole symosium.
Click To Enlarge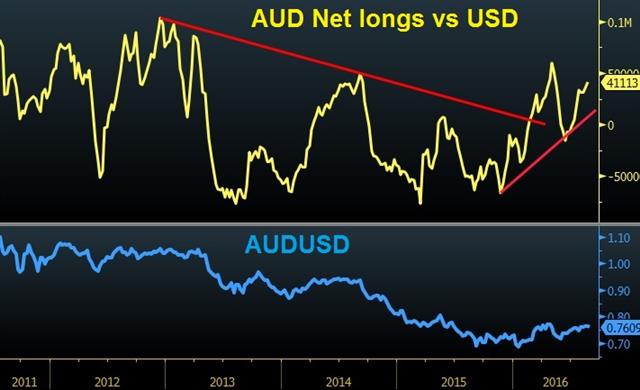 USD/JPY jumped to as high as 100.91 from 100.22 at Friday's close. The drivers were divergence comments from Kuroda and Fischer but the details aren't as impressive as the headlines.
The BOJ leader said there was still room for the BOJ to cut rates to go further into negative territory and added that there is a sufficient chance his central bank will take more action in September. But he was careful to note that the space to cut was "technically" there and he generally pointed to the ongoing BOJ review, which will evaluate QE.
In the US, vice chair Fischer said the Fed is "close to our targets" in a headline that grabbed hawkish attention. The details were less convincing as he fretted about "mediocre at best" growth. He expects a GDP pickup as the drag from the US dollar fades and investment improves but his tone suggests he will need to see it before voting for a hike.
Combined, the headlines of both leaders are more dramatic than the details and the initial market reaction could fade. Traders will have plenty of time to pour over the details due to the whisper quiet Asia-Pacific calendar to start the week.
Commitments of Traders
Speculative net futures trader positions as of the close on Tuesday. Net short denoted by - long by +.
EUR -93K vs -98K prior JPY +56K vs +49K prior GBP -94K vs -90K prior CHF -1.5K vs +0.1K prior AUD +41K vs +35K prior CAD +12K vs +15K prior NZD -0.7K vs -0.6K prior
The yen longs and GBP shorts continue to push the envelope. What stands out is that only one is moving the direction that specs want (JPY). The pound showed some life last week and if the run of good data continues, that net short position looks awfully vulnerable to a squeeze.
Soft AUD trading last week didn't dissuade the spec trade.
Latest IMTs