Intraday Market Thoughts
Is Pound Pessimism Fading?
The first real test of the post-Brexit lows in cable has held in what may be an early sign of a more constructive view on the referendum. The pound was the top performer on the day while the Australian dollar lagged. Japan's all-industry activity index is due next. The 2nd index trade was filled and 2 equity indices are currently in progress, in addition to 2 metals and 4 FX trades. the EURUSD long trade is deepening in the green.
Click To Enlarge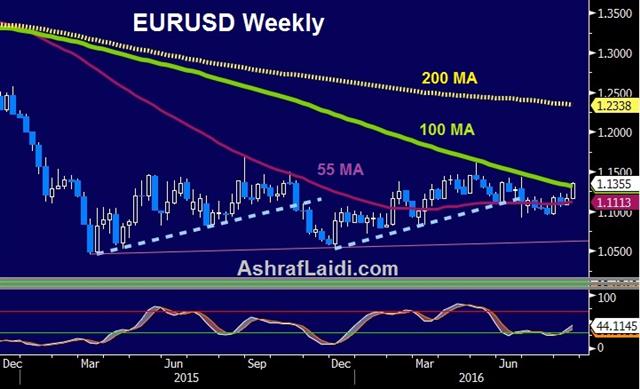 In markets, perception is reality. At least until reality arrives.
The perception was that a Brexit may cause a massive recession, lack of investment and flight of capital. The market's initial reaction and continued worries afterwards showed that many of those things were in the process of happening.
But as the two month anniversary of the vote nears, it's also clear that some of the worries were overblown. Europe doesn't want a trade war with Britain and there is probably room for middle ground. In the meantime, UK investment is suffering a lull but there is no race to the exits or signs of widespread layoffs.
Some of the fears may come to fruition but the market is at the point where it wants to see the reality of the situation in the economic data. Thursday's 5.4% jump in July retail sales ex auto fuel compared to 3.9% expected is a sign that consumers, at least, aren't hitting the panic button.
Technically, GBP/USD held the July low despite a dip below 1.30. That's not a bottom but it's an early sign that buyers are lurking.
In terms of US economic data on Thursday, initial jobless claims and the Philly Fed largely matched expectations. The dollar was generally soft as the momentum from the FOMC Minutes continued.
The Canadian dollar got another lift from oil, which has now climbed 23% from the lows on Aug 3. The acceleration higher Thursday in crude after six consecutive days of gains may be a sign of a short squeeze.
Friday trading in Asia-Pacific trading may focus on the yen. USD/JPY closed below 100 for the first time since 2013 and continues to chop around that mark. On the calendar, it's the June Japan all-industry index at 0430 GMT.
Act
Exp
Prev
GMT
All Industries Activity (m/m)
0.9%
-1.0%
Aug 19 4:30
Retail Sales (m/m)
1.4%
0.1%
-0.9%
Aug 18 8:30
Latest IMTs