Intraday Market Thoughts
Tankan Firms, CNY Awaits Fixing
A rout on risk assets Friday was triggered by worries about junk bonds with the Fed preparing to hike. Weekend news from another junk fund and China will compete early in the week. Yen traders received a decent tankan survey but await the fixing prices from China in 1 hr from now. There are 7 Premium trades, currently in progress. A new Dax short was opened on Friday, while FTSE short was closed with a 375-point gain. AUDNZD short was stopped out.
Click To Enlarge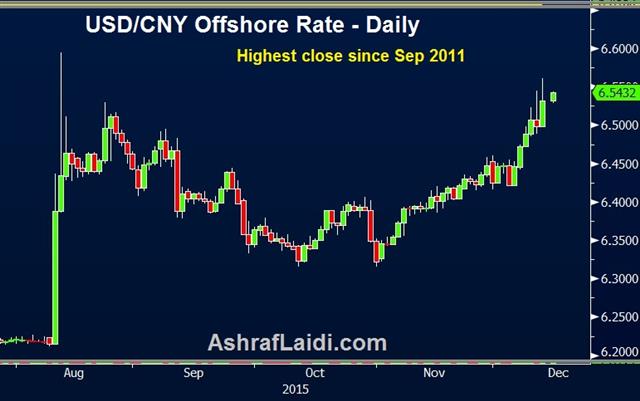 The S&P 500 fell 40 points on Friday and the yen surged after a small $789m fund announced it would prevent client withdrawals as it winds down the fund. The inability of investors to access an open-ended fund is a troubling development, especially in an asset class as widely feared as high yield.On the weekend, Stone Lion Capital made a similar announcement. The latest announcement might not carry the same weight because the $1.3B fund invested in distressed debt, which is inherently higher risk.
News that could stabilize sentiment came from China where industrial production rose 6.2% in November year-over-year compared to 5.7% expected. Retail sales were also fractionally stronger than forecast.
As good as the headlines were, the underlying story isn't quite as promising. China's stats agency said base year effects boosted the readings and reported that car sales and manufacturing were especially strong due to a recently-introduced government tax cut.
Earlier this month, the Shanghai Securities News reported the RRR would be cut 50 basis points in December. We remain on guard for a move at any time.
It didn't come on the weekend and AUD/USD started the week flat. Early trades show EUR, GBP and CHF lower with CAD leading the way after hitting fresh 11-year lows on Friday.
Japan's Q4 BoJ Tankan survey showed large manufacturing index was unchanged at 12 from Q3, versus estimates of 11, while the large non-manufacturing index also remaiend unchanged at 25 vs expectations of 23. All firms' capex for 2015 fiscal year, edged up to +7.8% vs expected +6.4%.
Other parts of the report to focus are is the commentary on capex and inflation. The BOJ decision on Friday is the final one of the year. Expectations for easing in the near term have evaporated one slightly better wage and preliminary inflation data.
Commitments of Traders
Speculative net futures trader positions as of the close on Tuesday. Net short denoted by - long by +.
EUR -172K vs -182K prior JPY -68K vs -75K prior GBP -24K vs -28K prior AUD -34K vs -47K prior CAD -40K vs -39K prior NZD +9K vs +5K prior
The squeeze on euro shorts was nowhere near what most expected. Either that or fresh euro shorts replaced the weak hands after the ECB. It was a similar story when EUR/USD rallied in August. The market is firm and resolute against the euro; it will take more than a few hundred pips to convince speculators that the euro isn't headed lower.
Act
Exp
Prev
GMT
Eurozone Industrial Production s.a. (OCT) (m/m)
0.2%
-0.3%
Dec 14 10:00
Eurozone Industrial Production w.d.a. (OCT) (y/y)
1.3%
1.7%
Dec 14 10:00
Latest IMTs