Intraday Market Thoughts
Third Avenue Blockade, Beijing FX Coup
Another market tumble stands in the way of the Fed's artificial normalisation, saw EUR & JPY pushing higher against the USD, while AUD, NZD and the rest of commodity FX sustained fresh damage. China's announcement earlier today that it had officially launched a new trade-weighted index for the yuan in order to more accurately reflect the currency's value is a departure from solely focusing on its valuation against the US dollar, towards valuing it against a set of currencies. Although the announcement did not entail an outright devaluation or an expansion in the 2.0% daily trading band, markets have interpreted the changes as an easier means to weaken the yuan.
Click To Enlarge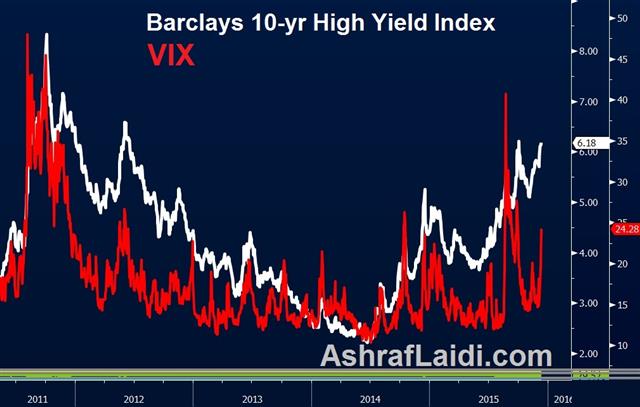 The publication of the new basket removes the yuan from being principally tied to a rising USD, allowing Beijing to weaken its currency against a basket of currencies, which would be deemed less USD-specific and less controversial. Either way, China's currency will have to depreciate further-not only due to prolonged easing ahead from the PBOC, but also due to the fact that the currency remains overvalued after being tied to the appreciating USD and having risen against the tumbling yen by 65% between 2013 and 2014. So far, CNY has fallen by only 7% against JPY over the past five months. More CNY declines lie ahead and Monday's (and Tuesday's) fixing will be only the start.
Third Avenue Blockade for High-Yield Seekers
The day's biggest headline emerged from the credit front, as US high-yield bond fund Third Avenue Management took the rare step of blocking investor withdrawals from its $788 million credit mutual fund. The fund announced that the only way to fulfil investor withdrawals would have forced it into selling already tumbling bunds, sending yields further higher and endangering the entire US credit market, days before the Fed embarks on normalisation.
As in 2007-8, skeletons have a way to drop off investment funds closets. If Third Avenue sustained nearly $1 bn of redemptions in the 11 months ending in November, and as much as $3.46 bn in withdrawals from all high-yield funds last week, then what would happen next year. Whether these junk bond funds are energy-related or not, the situation remains parlous and could turn perilous if the Fed hikes. Our stance of expecting no Fed hike in 2015 may have turned unsustainable as far as probability, but not in validity.
With the ECB decision and strong NFP report behind us, both the US dollar and yields are at 5-week lows. That's NOT what these markets are supposed to look like five days before liftoff. Regardless of the Fed's outcome next week, were already looking past the meeting into a fresh round of easing in H2 2016.
Latest IMTs