Intraday Market Thoughts
Oil and CAD Crumble Again
A number of major themes were in force in 2016 but trading on Monday was perhaps a reminder of what will be the most persistent and telling one – the commodity collapse. The Canadian dollar lagged again on the day as oil fell 3.3%. China is back in focus after government announcements hurt sentiment, sparking a 2.7% decline in the Shanghai Composite on Monday. The Premium Insights closed a GBPNZD short with a 380-pip gain.
Click To Enlarge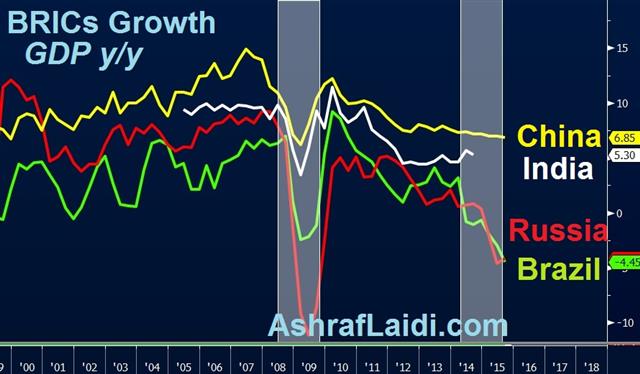 China and Iran weighed on commodities to start what will be a quiet week of trading. Iran recommitted to immediately increasing exports by 500K barrels per day when sanctions are lifted next week and another 500K within 6 months.
In China, officials took steps to contain trouble spots in the economy but that will have the knock-on effect of trimming growth. The finance minister said limits will be placed on local government debt. Regulators also targeted online lending, some of which fuelled stock markets last year.
All the talk about the Fed and central banks this year partly drowned out major problems in emerging markets. The marginal demand from the developing world is what fuelled a 15-year run in commodities. The combination of overproduction and falling demand is what popped the bubble. How much each of those factors is responsible is critical in 2016.
Some emerging markets, like Brazil, South Africa and Russia, had terrible years with no quick bounce on the horizon. That threatens a negative feedback loop of softer EM demand hurting commodity prices. The market continues to indicate that Canada will be hit hard by soft commodities but the Bank of Canada believes non-commodity exports will help to fill the gap. We're skeptical.
Latest IMTs