Intraday Market Thoughts
Underpricing Trade Risks
The market remains upbeat about US-China trade negotiations but may be underestimating the risks. Lofty exports Chinese data were released overnight. US retail sales on Thursday are sure to be a market mover. A new Premium trade in commodities was issued yesterday and a trading update was posted on GBP. All indices trade are now closed and a new Trade is due up today. Sterling traders await new debate on Brexit-related amendments in Parliament later this eveing so expect prolonged GBP swings.
Click To Enlarge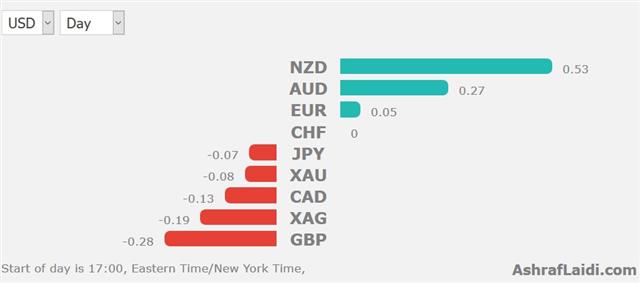 The consensus in markets is that the US and China are on their way to deal. Trump and Xi have both sent signals that they don't want a trade war to derail their economies. Based largely on that sentiment, Chinese stocks have climbed 13% from the recent lows and the S&P 500 is up 17% including 8 more points on Wednesday. Markets have gotten a bit ahead of themselves.
The rule of thumb on negotiations is that they're always toughest right at the end. It won't be smooth sailing to the finish line and at this point negative headlines are going to hurt more than positive ones might help. The wild card in negotiations is Robert Lighthizer. He's been pining to be in this spot for his entire 40-year career and he's a notorious China hawk. It would be a big surprise if he doesn't try to push China further than Xi is willing to go.
Elsewhere, economic news Wednesday showed that the market hasn't entirely moved on from inflation worries. US CPI rose 2.2% y/y compared to 2.1% and that gave a lift to the dollar, especially against the euro which slid 65 pips to 1.1260 on the day including a dip after CPI. EURUSD basing process turns to US retail sales and PPI.
Gold also posted an outside day in a fall to $1302 after rising as high as $1318. Keep an eye on $1300/$1296 in the day ahead. A break below would signal a deeper retracement and possibly the end of the uptrend.
Coming up is big slate of economic data culminating with US December retail sales at 1330 GMT. This is the December data that has been delayed due to the shutdown. It's a key month for consumers and the consensus is for a 0.1% rise following the 0.2% climb in November. The control group is the spot to watch and it's forecast up 0.4%. Beware of the secular trend towards earlier Christmas shopping around Black Friday in November pushing sales ahead then leading to a miss in December.
Act
Exp
Prev
GMT
Consumer Prce Index (y/y)
1.9%
1.9%
Feb 15 1:30
Latest IMTs