Intraday Market Thoughts
Bond Market Rejects 1%
Markets are up along with metals, but a crucial development is Thursday's failure of 10-yr bond yields to break above 1.0%. In fairness,
yields did break above the 200-DMA
as well as the trendline resistance from the December high. We mentioned in
Thursday's IMT
wheat and oil. More on
the deflation-Reflation battle below.
Look at them now. As we speak, USD is weak across the board, except for CAD as oil fails to regain 41.
Ashraf issued a new Premium trade
,
warning that only those with
conservative size mgmt
can hold into the weekend.

Deflation-Reflation Battle
Yield's failure to regain the 1.0% helped boost metals across the board, but the question remains whether today's rest at 0.89% is merely a pit stop before a fresh breakout. Bonds summarise the
battle between the deflation and reflation
camp, with the
former expecting an eventual drop back in yields
as growth evaporates and the Fed rushes to zero and negative rates. The r
eflation camp anticipates successful vaccine to usher a new wave of spending and optimism
, lifting yields, stocks, metals at the expense of the US dollar.
The arm wrestle between easy money and virus worries is the dominant theme of 2020. Vaccine news at the start of the week gave markets a huge jolt but much of those gains have evaporated as the focus shifts back to near-term virus worries.
Click To Enlarge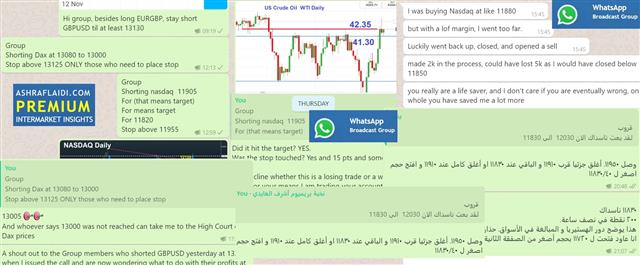 Similarly, sterling gave back some of its recent gains on Thursday as Brexit negotiators tempered optimism. Negotiations will continue next week and if positive developments don't begin to trickle out, the market will grow increasingly nervous. Today's GBP bounce is part of an overall USD pullback, with the moment of truth due next week.
In terms of economic data, US initial jobless claims were at 709K compared to 731K expected. That's the best week since the pandemic got underway but still remains above the worst week of the financial crisis. Given the rising odds of new restrictions in the weeks ahead, we may be near a short-term bottom in claims. If they begin to rise again that may tilt markets further towards risk aversion.
Members of
WhatsApp Broadcast Group
, had sucessful trades in DAX, Nasdaq, EURGBP and GBPUSD as seen in the above snapshot.
Latest IMTs