Intraday Market Thoughts
Don't Forget CAD & NAFTA
Let's take a short break from the lira and the yuan for a moment and return to the Canadian dollar ahead of today's Canadian CPI. The best performing major currency since the start of July is the Canadian dollar, while the best performing emerging market currency is the Mexican peso. Their common denominator is NAFTA risk. Despote improved tone of negotiations, major uncertainty remains. What's the potential upside for the Canadian dollar if a deal is done? A 3rd Index short was opened for Premium subscribers yesterday and is already in the green.
Click To Enlarge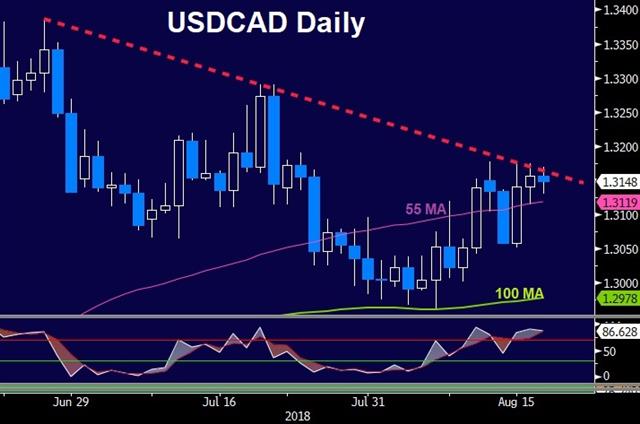 The implied odds of a BOC rate hike September have been steadily climbing and are now at 24%, rising to 74% in October. With a NAFTA deal a hike by then is a certainty and the likelihood of two hikes before year-end would rise above 50% from 28% currently. The kind of shift into a Fed-like pace of hikes would imply a broad tightening of sovereign spreads and USD/CAD would likely fall to 1.25 from 1.31 currently.
There are upside risks as well. We assume the US would continue with protectionistic measures against Europe and Asia. That would leave Canada and Mexico in the envious position of being able to benefit from stronger US growth while sidelining some of the potential competitors for export orders.
A downside CAD risk that the US-China battle escalates to where it generates global risk aversion and that's something that bears close watching but at the moment it looks like there may be an extended window opening for NAFTA outperformance.
Act
Exp
Prev
GMT
CPI (m/m)
0.1%
0.1%
Aug 17 12:30
Latest IMTs