Intraday Market Thoughts
USD Eases on Trump Comments
The US dollar was broadly lower on a slow Monday session following Trump comments on Friday indicating he expected Jerome Powell to be a "cheap-money" Fed chairman. The comments were made at a fund-raiser for wealthy Republican donors at the Hamptons. There were no specific USD comments but the greenabck dropped off on the interest rate side of it.CFTC positioning showed a net euro short for the first time in 15 months.The Premium short in USDJPY was closed at 110.00 for 120 pt gain as the remarkable divergence between USDJPY and USDX continued. The chart below indicates that the USD/CNH has fallen below the USD/CNY for the 3rd straight session, meaning a lower USD exchange rate against the offshore yuan than the USD rate vs onshore yuan (more managed). This may indicate that the PBOC is more successful at swaying speculating selling against the CNY in the hard-to-control offshore market. More on this in tomorrow's Premium video.
Click To Enlarge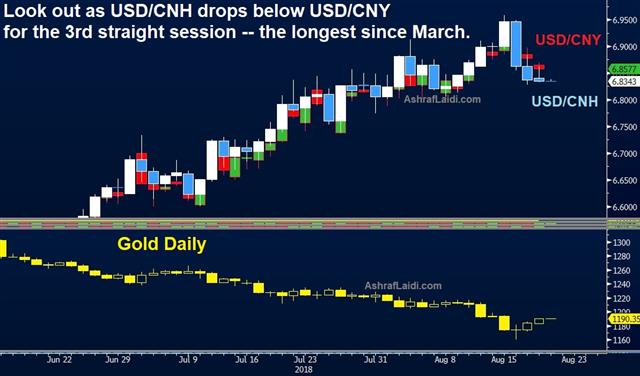 The first steps toward ending the China-US trade fight boosted risk assets on Friday but that hope could quickly unravel.The week ahead ends with the Jackson Hole symposium in what's traditionally a major event for markets but instead it may be a lower-level US-China meeting that will determine sentiment in the week ahead.
On Tuesday and Wednesday a delegation led by Chinese Vice Minister of Commerce Wang Shouwen will meet U.S. representatives led by Treasury Under Secretary for International Affairs David Malpass in Washington.
On Friday, the WSJ reported that this is part of a roadmap towards a November summit and trade deal between Trump and Xi. That sparked speculation that a true trade war can be avoided. Other reports suggested that the US is currently focused on the yuan but a rise in 12-month forward rates and a reversal in the yuan Friday could be China showing some flexibility.
Or it could be nothing. The market is clinging to some dim signs of hope here when all actions point to a fraying relationship. On August 1, Trump announced hearings on tariffs of 25% on more than $200 billion Chinese imports.
Hearings and consultations on those tariffs start Monday and continue until the public comment period ends September 5. That's the key day on the calendar and could mark a watershed moment in markets this year. If this week's summit ends badly, markets may jump to conclusions about what's coming.
CFTC Commitments of Traders
Speculative net futures trader positions as of the close on Tuesday. Net short denoted by - long by +.
EUR -2K vs +11K prior GBP -61K vs -59K prior JPY -58K vs -63K prior CHF -46K vs -46K prior CAD -26K vs -25K prior AUD -51K vs -54K prior NZD -27K vs -25K prior
The euro has dropped to 1.14 from 1.26 in the past 5 months in a painful move for euro longs. They packed it in last week and are now net short for the first time since May 2017. Other moves were relatively minor.
Latest IMTs