Intraday Market Thoughts
Energy Fever Breaks
A potential blow off top in gas prices could have broader implications. A resolution to the
US debt ceiling should take down the temperature in Washington but any extended market response should depend on how temporary the solution is
. US weekly jobless claims fell sharply by 38K to 326K last week, following Wednesday's solid ADP report. China returns from holiday. The F
TSE100 long was stopped out at a tight stop of 6980, but those who moved their stop are in the money.
Today's
new Index trade is +120 pts in the green so far.
Below are the Oct 2013-2021 market similarities
involving the debt ceiling negotiations/breakthrough and uppcoming Fed tape.
Click To Enlarge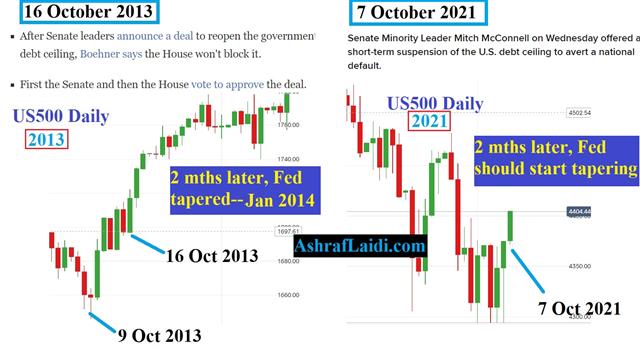 The monumental move in European gas and energy prices ratcheted up to a new level on Wednesday, rocketing 40% higher at one point. However, the move reversed and prices finished 10% lower, in part due to comments from Putin suggesting Russia could add incremental supply.
It's far too early to call a top for certain, but the spike higher and reversal has all the technical elements of a blow off following a parabolic move. A cold winter could ultimately leave parts of Europe in a dire situation but that's undoubtedly priced in already. There's also a fair chance that hedges or a short squeeze added to the move.
Gas prices in Europe and North America, along with oil, all carved out bearish outside days and that rippled through broader markets, leading to a recovery in European equities. German stocks in particular may be a clear beneficiary if energy prices stabilize or decline.
Tail risks also fell in the US as Congressional leaders signaled a short-term truce on the debt ceiling, pushing the deadline to December. That will give Democrats time to add it to a reconciliation bill or we'll do this dance again in two months. In any case, markets breathed a sigh of relief from another manufactured crisis.
Ultimately, it will be the economy that decides were markets go. The ADP employment report has been a poor jobs tracker but it foreshadowed weak non-farm payrolls in August. Wednesday's report showed 568K jobs compared to 428K expected.
Latest IMTs