Intraday Market Thoughts
80 Oil & Lasting Inflation Fears
A long list of fears is weighing on risk appetite and adding to volatility at the moment, but each will be manageable or passing, except for inflation. A fresh rise in oil prices to a seven-year high on Monday underscores the potential for turmoil. US crude
oil is entering its 7th weekly gain
, the longest series of weekly gains since Nov-Dec 2020. The ISM non-manufacturing survey is up next.
A new Premium trade has been issued based on an imminent triangle breakout.
Click To Enlarge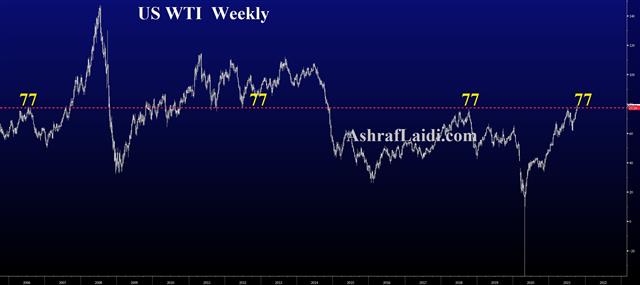 There's no single catalyst behind the recent slump in global equities. Lately market watchers are pointing to the debt ceiling but we've been through this song-and-dance many times and are confident the US won't default on its debt.
Covid is clearly fading in the market's mind. Shares of vaccine makers have been falling and weekend cinema box office numbers were at post-pandemic highs. Nonetheless, there's still lasting fear and concern about structural changes that have been triggered by the pandemic.
China and Evergrande are certainly concerns, but the market has a long history of ignoring problems, expecting Beijing to step in to prop up growth and being right. We fear that 'common prosperity' is a sign of a generational shift in policymaking but until there are concrete changes, it's difficult to price in a regime change.
Supply chain issues are clearly getting worse. Ports are backed up and there's talk about empty shelves for Christmas. It's an issue we haven't seen before and it's next-to-impossible to obtain good data on how it will resolve --- yet eventually it will -- and there are positive read-throughs around inventory building in 2023 and beyond.
But none of that takes into consideration the impact of inflation. Surveys increasingly show that businesses plan to raise prices. Workers are also asking for wages. The Fed doggedly points to market-based measures of inflation but with QE, the Fed also has a thumb on the scale.
As yields inevitably rise, the noise around inflation will grow louder. Nasdaq is now overwhelmingly seen as a long duration asset and it's 8% off its highs. Tech has carried much of the pandemic recovery, and we'd note that 62% of stocks in the S&P 500 are down 10% from their 52-week highs, while 16% are down 20%. That's beginning to show up in the high-flying tech stocks that have done so much heavy lifting in the past 18 months.
Looking ahead, at 1400 GMT, the ISM non-manufacturing survey is due up. The prior reading was 61.7 and it's expected to dip to 60. Within the report, the prices paid component was previously at 75.4 and a further rise would re-energize the inflationary chorus.
Latest IMTs