Intraday Market Thoughts
No Deal Dilemma
GBP sustains its worst week in 3 months as Brussels warned EU
against considering any sidedeals with Britain
in the event of continued deadlock of talks, in order to force force the UK back to the negotiation table
"as soon as possible"
next year. Boris Johnson said on Friday it was
"very very likely"
Britain would leave without a deal. It's dangerous to assume that any deadline in Europe is solid but
Sunday looms large for Brexit negotiators and sterling is vulnerable
. More broadly, the US dollar slump continues as commodity currencies surge. December US consumer sentiment will offer an early look at holiday shopping.
Yesterday's Premium short in cable is more than 100 pips in the green, while Wednesday's other FX trade is more than 70 pips in the money. DAX hit its H&S target of 13040 as
explained in the voice note here.
Click To Enlarge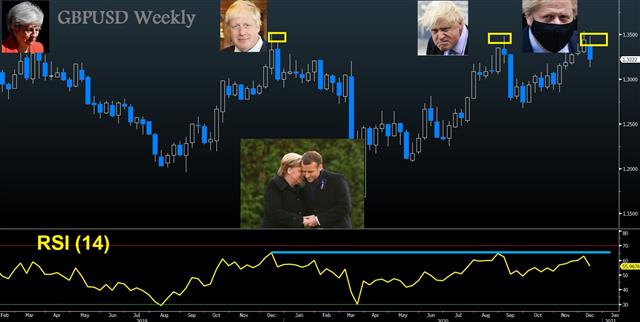 Boris Johnson's playbook has always been to concede little and take negotiations to the absolute limit so it should be no surprise that we're here. At the same time, if he's bluffing that a no-deal Brexit is now a 'strong possibility', then he's pulling off an incredible bluff.
Sterling continues to hold at strong levels, suggesting that the bulls haven't panicked yet. The corollary is that the upside risk/reward for betting on a deal is limited. Ashraf mentioned the possibilities for scalping/daytrading GBPUSD for WhatsApp Broadcast Members.
What's particularly worrisome is that there are so few positive murmurs from negotiations, nor are there any ideas floating around about how to solve the particularly-difficult level playing field provisions.
Add it up and the odds of a bad outcome are rising.
On the vaccine front, the US cleared a final regulatory hurdle for approving the Pfizer vaccine on Thursday and will almost-surely approve it on Friday. That may inspire a relief rally but we're watching the news from Sanofi and GlaxoSmithKline who delayed their vaccine program after it triggered a low immune response in the elderly. The product now won't be available until the end of next year at best.
Every vaccine matters because the enormous challenge of vaccinating the entire world. While the UK and US will be at the front of the line even with the current vaccines, the a faltering in other candidates stretches the timeline for the developing world, and ultimately curbs global growth.
In this case, the market may forgive one setback but two or three repeats would trigger a wave of risk aversion.
Latest IMTs