Intraday Market Thoughts
No Deal in Doha
Hopes for an oil production freeze agreement in Doha ended in tatters Sunday with leaders walking away empty handed. The breakdown sets up a dramatic start to the week and USD/CAD is already trading up 130 pips. New Zealand CPI is due later. There are currently 5 Premium trades in progress & 1 awaiting fill. 2 of those are in CAD crosses and 1 in JPY.
Click To Enlarge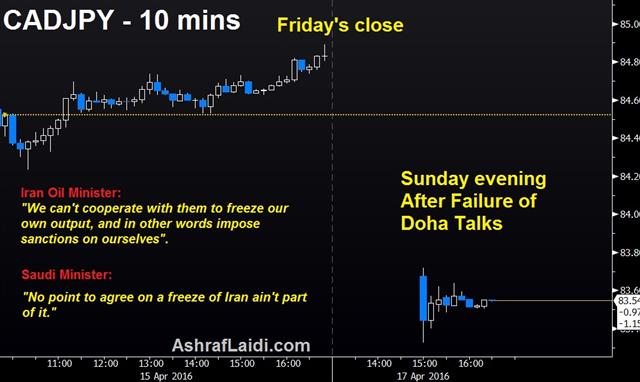 Saudi Arabia took a hard line in what was characterized as a last-minute change in position. They renewed a call for Iran to join the production freeze but Iran didn't even send a decision-maker to the meeting.
Officials tried to broker a face-saving statement but even that failed in what turned into a PR disaster and quite possibly a disaster for oil prices and the budgets of some of the governments who attended. Russia's oil minister said there was a last-minute change in the position of some countries. As a result, he said, the market will take an additional six months to rebalance.
Perhaps the most striking comments of the weekend were from Saudi Price Mohammed bin Salman who said they will sell at any opportunity without a freeze and hinted they could raise production by more than 2 million barrels if they desire. The rhetoric suggests they see a chance to bankrupt rivals and are willing to embark in a price war to make it happen.
WTI slid $1.14 to $40.36 on Friday and it's likely to fall much further in the days ahead. Watch for risk aversion and a jump in yen crosses as the week gets underway.
The lone consequential economic data point is the Q1 New Zealand CPI report. The consensus is for a 0.4% y/y rise and a 0.1% q/q increase. Those numbers clear the way for more RBNZ cuts if they'd like; a downside miss would add some urgency and hurt the kiwi.
Commitments of Traders
Speculative net futures trader positions as of the close on Tuesday. Net short denoted by - long by +.
EUR -52K vs -53K prior JPY +66K vs +60K prior GBP -51K vs -47K prior CHF +8K vs +6K prior AUD +35K vs +27K prior CAD +2K vs -0.1K prior NZD +4K vs +3K prior
The yen long is the most extreme since at least 1992.
Latest IMTs