Intraday Market Thoughts
Saudi Squeeze, RBA Minutes Next
A strike in Kuwait delayed the reckoning in oil and other markets on Monday. The pound was the top performer while the US dollar lagged. The Australian dollar touched a 9-month high ahead of the RBA minutes. There are 7 Premium trades currently in progress, 2 of which are in the Aussie ahead of the RBA minutes.
Click To Enlarge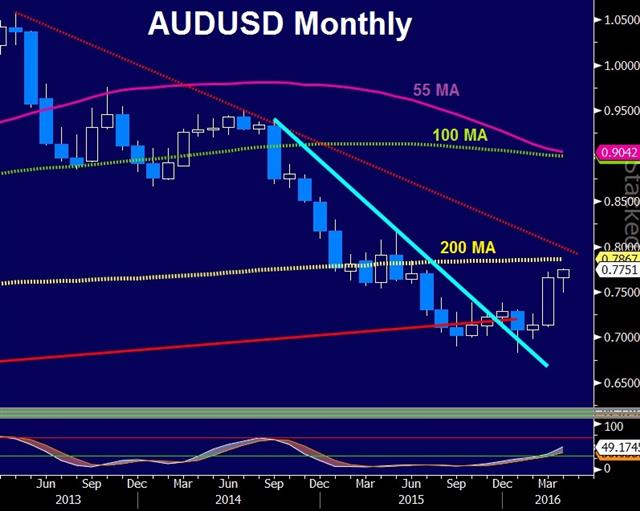 Striking workers in Kuwait lowered production by 1.6 million barrels per day, or more than 60%. In the short-term, that was enough to curb most of the selling from the Doha disaster but it's only a temporary reprieve.
Other attendees in Doha confirmed that Saudi oil minister Al-Naimi switched tactics the morning of the meeting. His shift was likely a directive from the royal family, in particular Mohammed bin Salman who now holds the reigns of Saudi Arabian oil production (and is the defense minister).
For 20 years, Al-Naimi was given a wide latitude to manage Saudi oil based largely on supply-demand dynamics but what happened in Doha suggests he's no longer the main decision-maker. Weekend comments from bin Salman suggest Saudis may be willing to let oil prices fall again in order to squeeze out rivals.
There is no indication of when the Kuwaiti strike will end, although the government has taken a hard line. Ultimately, with no prospects of any future OPEC cooperation and continued oversupply, the path for oil is lower. The bounce today only delays the timing.
In FX, many early moves unwound. A big one was the Australian dollar, which touched a 9-month high in a recovery after gapping lower at the open. The RBA is increasingly frustrated with the currency and that's a point that may be emphasized in the RBA minutes at 0130 GMT.
Stevens has been chided for his frequent verbal intervention but hasn't been dissuaded. Look for commentary from him on the currency and potential rate cuts. Alternatively, stronger economic data may force him to concede defeat, at least for now.
Act
Exp
Prev
GMT
RBA Meeting's Minutes
Apr 19 1:30
Latest IMTs