Hot-Charts
EURCAD Fundamental & Tech Play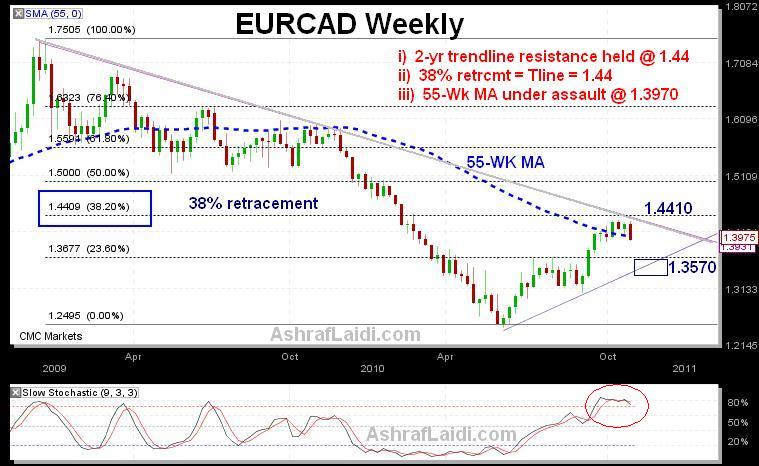 EURCAD shows an important combination of fundamentals & technicals both pointing to further further downside. I already raised the euro's sovereign challenges last week, pointing out the 25-30% increase in Irish/Greek/Spanish 10 year bond spreads over Germany during the same 6 weeks when EURUSD pushed higher. Such a rare occurrence happened mainly on anticipation of Fed QE2. But the euro could no longer sustain those highs solely on the back of the Fed asset purchases, while ignoring the resulting widening in corporate spreads. Ireland's ambitious new budget is based on €6 bln in fiscal retrenchment for 2011. Whether Ireland will post sufficient GDP growth to reduce the debt ratio remains the key question for Ireland and other austerity-bound Eurozone nations. The Irish Budget has not yet been passed and is likely to face opposition before being formally voted on later in December. ASIDE FROM THESE aforementioned risks for the euro, the Canadian dollar has had another strong week. Canada's October unemployment rate dropped to 7.9% from 8.0%, matching the June lows, which were the lowest since Jan 2009. Payrolls rose 3K after a decline of 6.6K in September. CAD gains are especially highlighted by the fact that upside surprises occurred in both Canada and the US (its biggest trading partner). Recall that in late October, CAD also outperformed against top10-traded currencies after August GDP rose 0.3% following -0.1% in July. ***************** EURCAD breaks below the 55-week MA for the first time this year (blue dotted line) after having failed to recover above 1.44, which represents the 2- year trendline resistance and the 38% retracement of the decline from the same high (1.75). *********EURCAD is now vulnerable to a retest of 1.38, followed by 1.3570s, which is the trendline support from the June low. A break below this potentially suggests 1.3120. The significance of the 1.44 retracement suggests a placement for short stops.
More Hot-Charts
Nov 12, 2021 12:55 | by Ashraf Laidi

https://www.binance.com/en?ref=13288560...

Nov 8, 2021 17:05 | by Ashraf Laidi

We know that Gold's commitment reports from the Comex is for the trading working period ending in a Tuesday.

Aug 10, 2021 18:42 | by Ashraf Laidi

The below analysis was carried out last Friday (Aug 6th), after which both BTC and ETH have risen more than 14% each.
Hot-Chart Archives